Gold Chef Business
EDIBLE GOLD CRUMBS
GENERAL SPECIFICATIONS
The 23kt gold crumbs are produced in Italy with gold from responsible sources, have no smell or taste and are imperceptible to the palate.
Gold Chef edible gold crumbs are suitable for food use in compliance with the current provisions of the countries in which they are used. They are produced in the Giusto Manetti Battiloro factory located in Florence (Italy), notified to the competent Health Authorities (registration no. CE IT AAE 090 5).
It is advisable to shake the package well before using the product.
PROFESSIONAL AND INDUSTRIAL USE
RETAIL
Culinary gold crumbs are elegantly packaged and available for retail sale. You can choose from displays containing 14 elegant 70 mg parchment pouches and 12 recyclable glass jars, with a convenient 125 mg spreader, for dispensing the desired amount(*).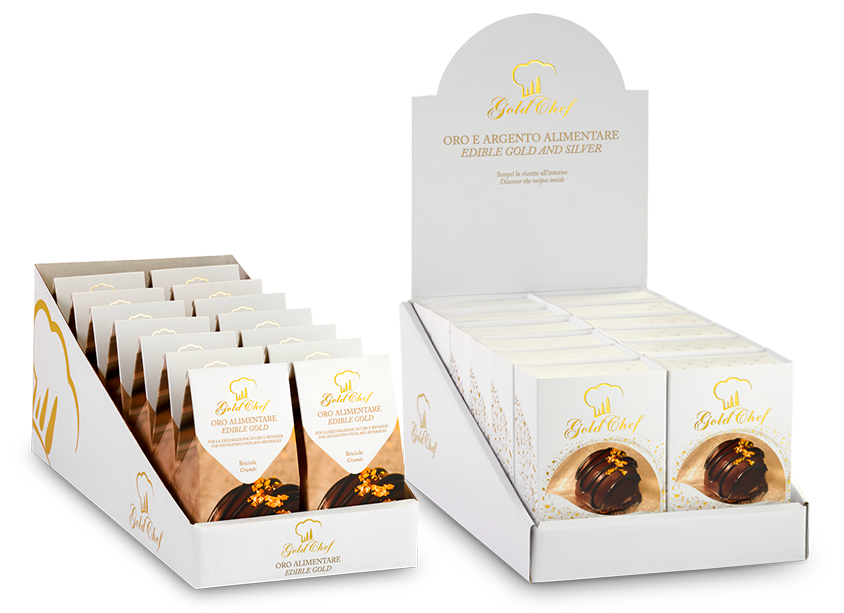 HO.RE.CA
Crumbs are the most versatile type of culinary gold: ideal for appetizers, first and second courses of fish and meat, desserts and small and large pastry products, they are the magic touch that makes any dish perfect(*).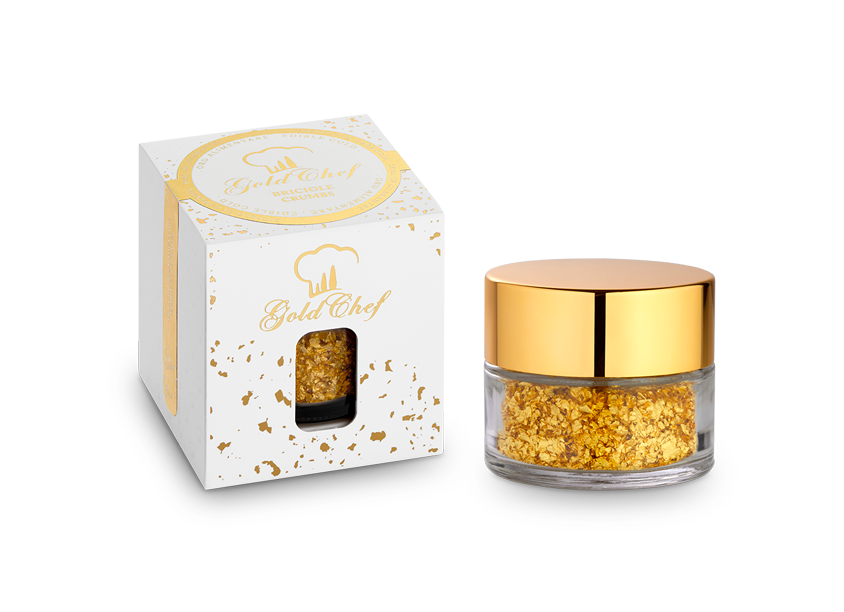 INDUSTRIAL
Edible gold crumbs light up a wide variety of food products with small elegant points of light. They are particularly suitable for enhancing liqueurs and spirits with surprising plays of light at every movement. They are also perfect for decorating the surfaces of chocolates and confectionery. On request the alloy, specific weight, size and packaging of the crumbs can be customized to meet your production requirements(*).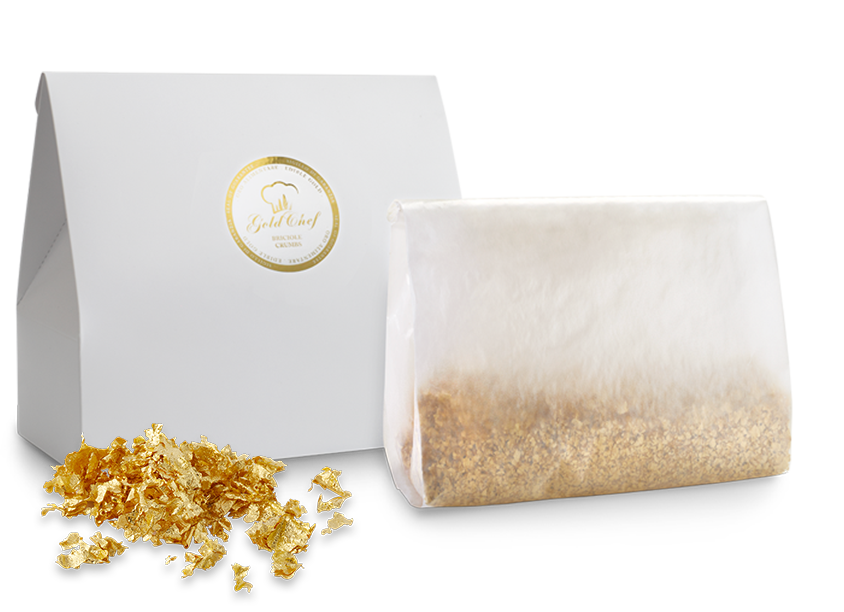 In the food industry, edible gold crumbs are the ideal touch for dishes and drinks
All Gold Chef production is made with a production process that complies with GMP (Good Manufacturing Practice) principles and the strict hygiene and safety requirements imposed by the European Union. The quality system adopted for the production process control is certified according to the international standard FSSC 22000:2020.
Gold Chef products do not contain allergens, are not produced with adjuvants and/or materials of animal origin and can also be supplied with Kosher certification. The origin and processing of the precious metal are guaranteed by Giusto Manetti Battiloro, a historic company that has been working gold leaf in Florence since 1600.
Many great chefs use this "ingredient" to embellish their creations and one example is Domenico Di Clemente, Master Pastry Chef at Martesana Milano(*).
Culinary food crumbs are in fact suitable for sweet combinations, also preferred by chef Marco Stabile, head of the kitchen of the Florentine restaurant Ora d'Aria. Chef Stabile chose Gold Chef edible gold crumbs to serve with his grandmother's cake with a liquid heart of vin santo and sage gelato, dusted with an additional layer of gold(*).
SELECT THE PRODUCTS OF YOUR INTEREST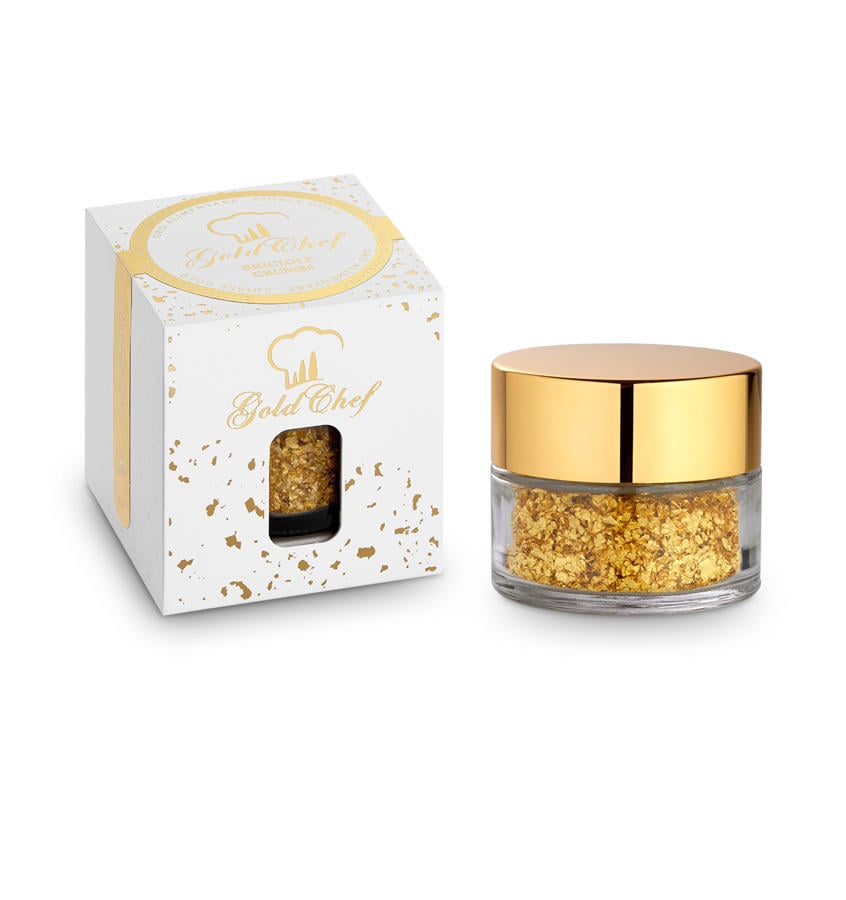 1 gr Gold Crumbs
23 kt Gold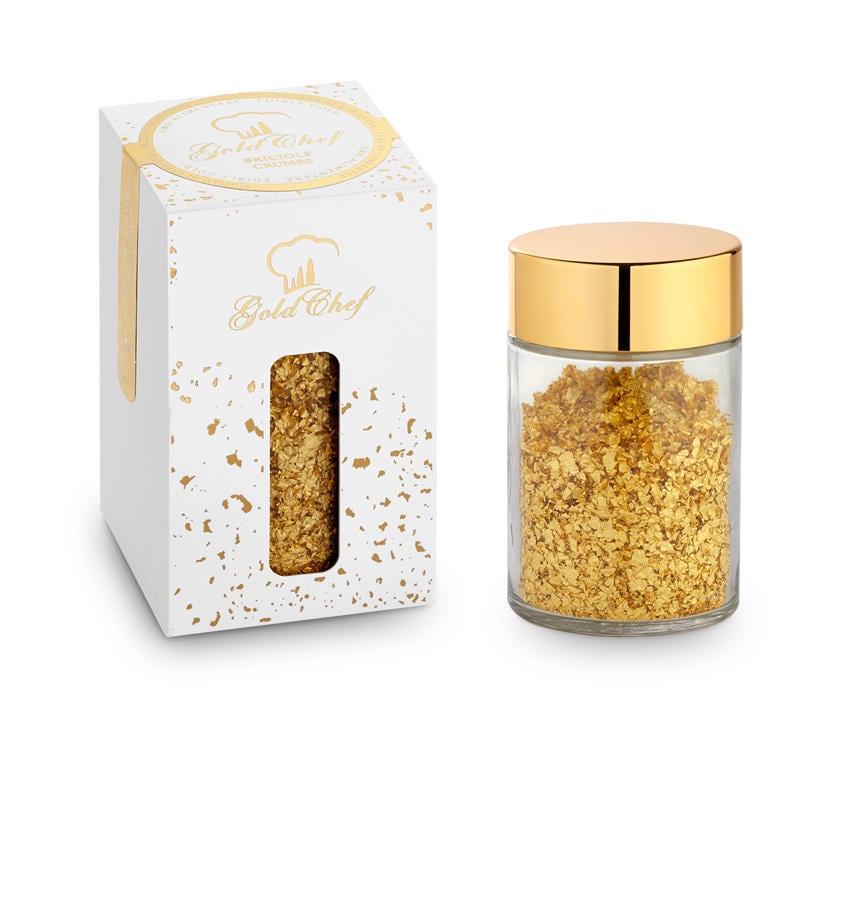 3 gr Gold Crumbs
23 kt Gold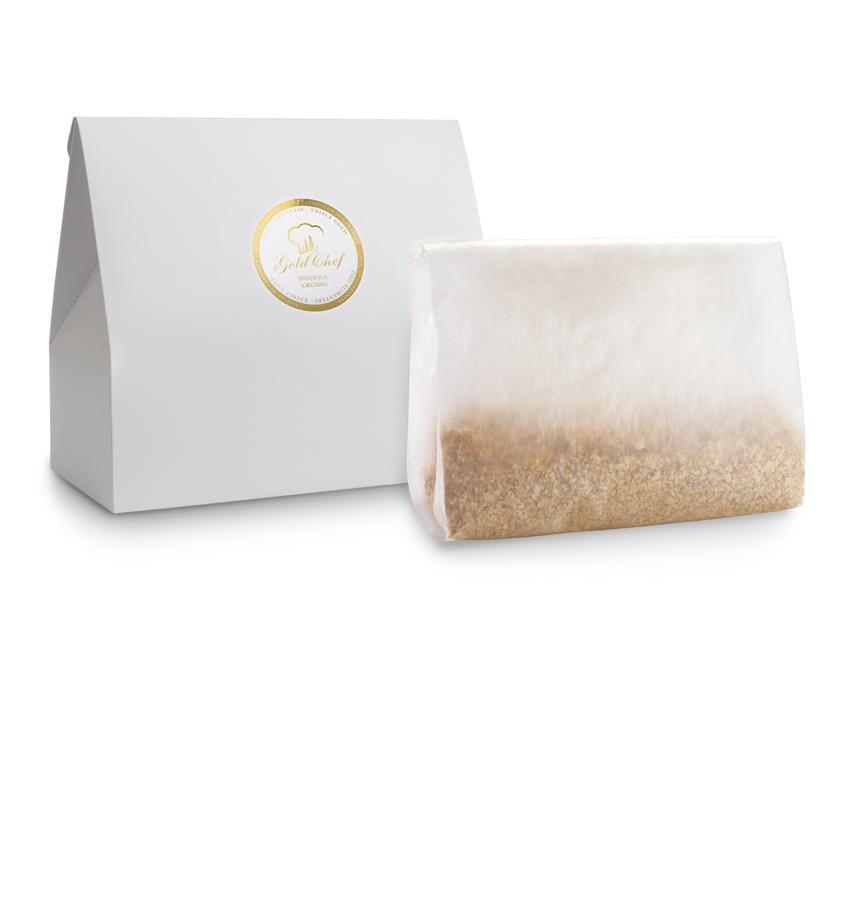 10 gr Gold Crumbs
23 kt Gold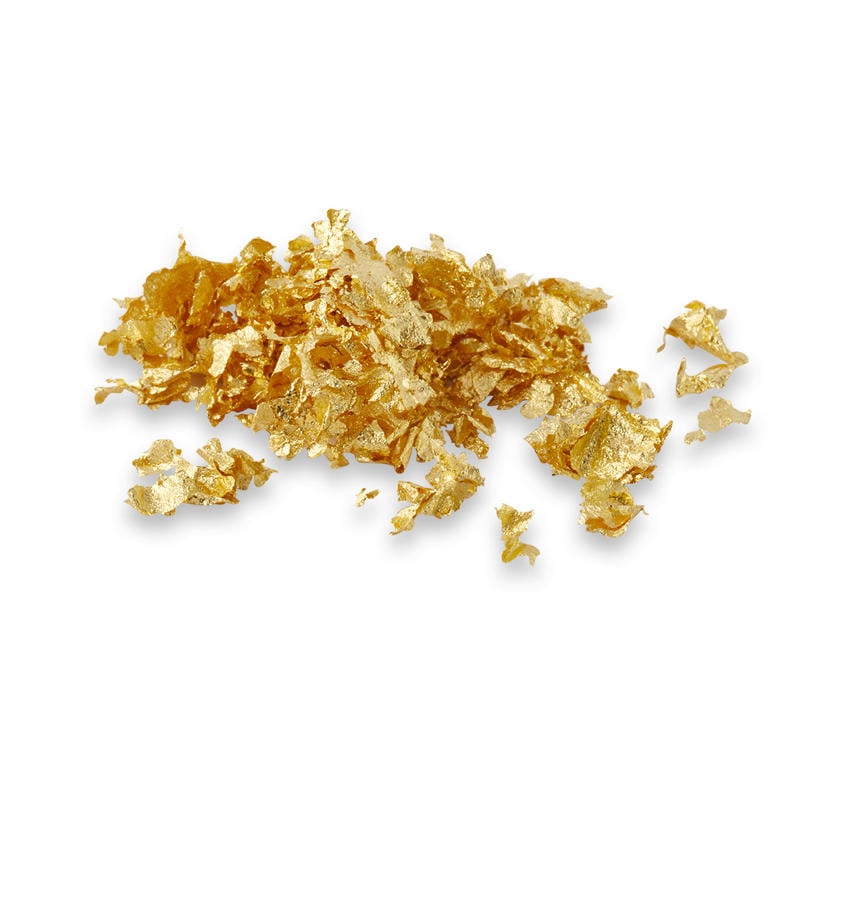 50 gr Gold Crumbs
23 kt Gold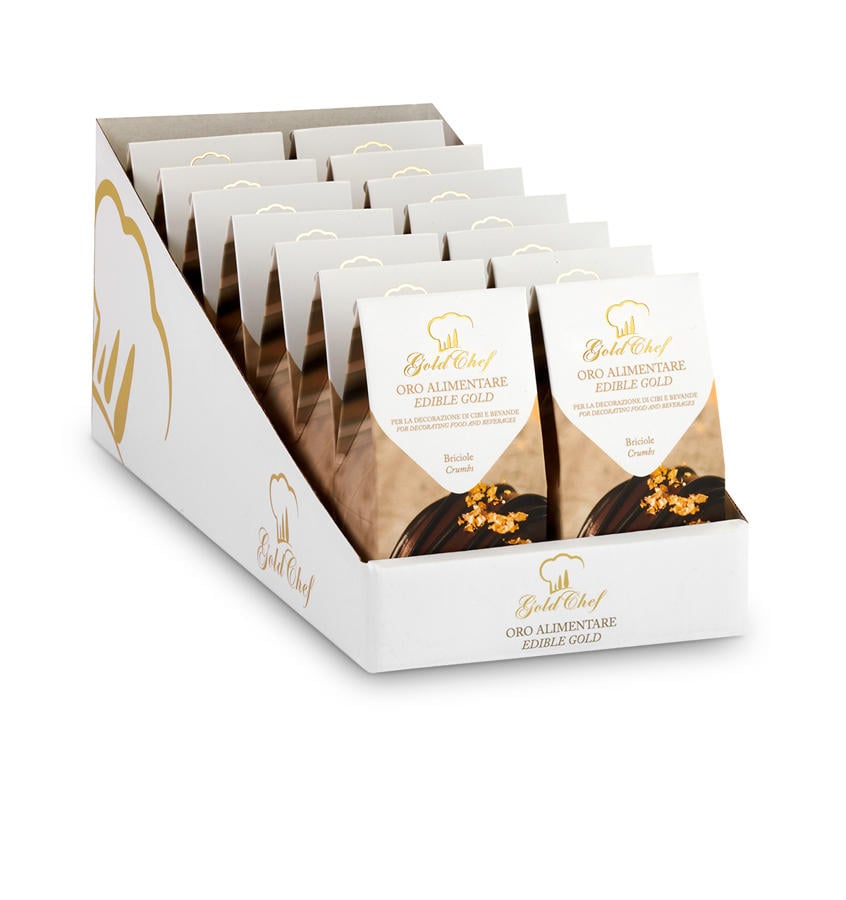 70 mg Gold Crumbs Display
contains 14 packages of 70 mg - 23 kt Gold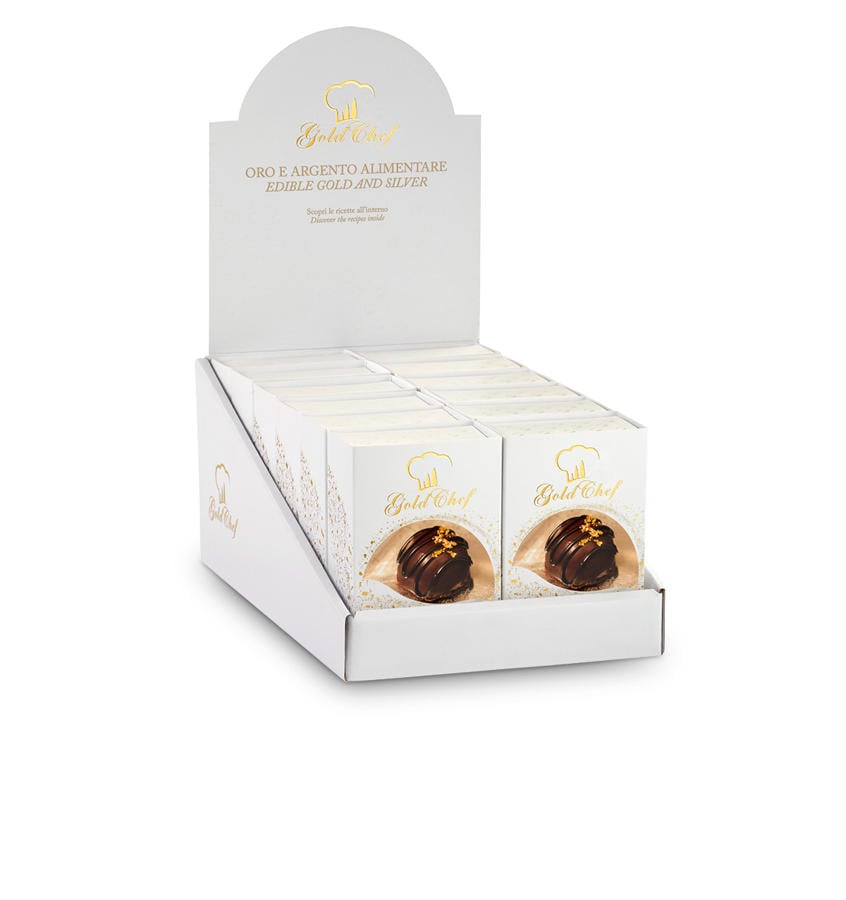 125 mg Gold Crumbs Display
contains 12 packages of 125 mg - 23 kt Gold
GOLD ALL FORMATS
SILVER ALL FORMATS
E-SHOP
To buy edible gold and silver directly in small quantities, visit our E-shop and discover all the lines to embellish your special creations.
DISCOVER THE PRODUCTS