Gold Chef Business
EDIBLE GOLD LEAF
GENERAL SPECIFICATIONS
Gold Chef's gold leaf for food use is a high quality Italian product, made exclusively with 23k and 24k gold. The gold used comes from responsible sources.
Gold Chef edible gold leaf is biologically inert, tasteless and imperceptible to the palate (*).
Gold Chef pure gold leaf is suitable for food use in compliance with the provisions of current regulations in the countries in which it is used(*). It is produced in the Giusto Manetti Battiloro factory located in Florence(Italy), notified to the competent Health Authorities (registration no. CE IT AAE 090 5).
PROFESSIONAL AND INDUSTRIAL USE
RETAIL
For the retail food trade, gold leaf is available in two fine types of packaging. You can choose between displays with 14 booklets of five 50×50 mm leaves each and 12 booklets of five larger 80×80 mm leaves(*).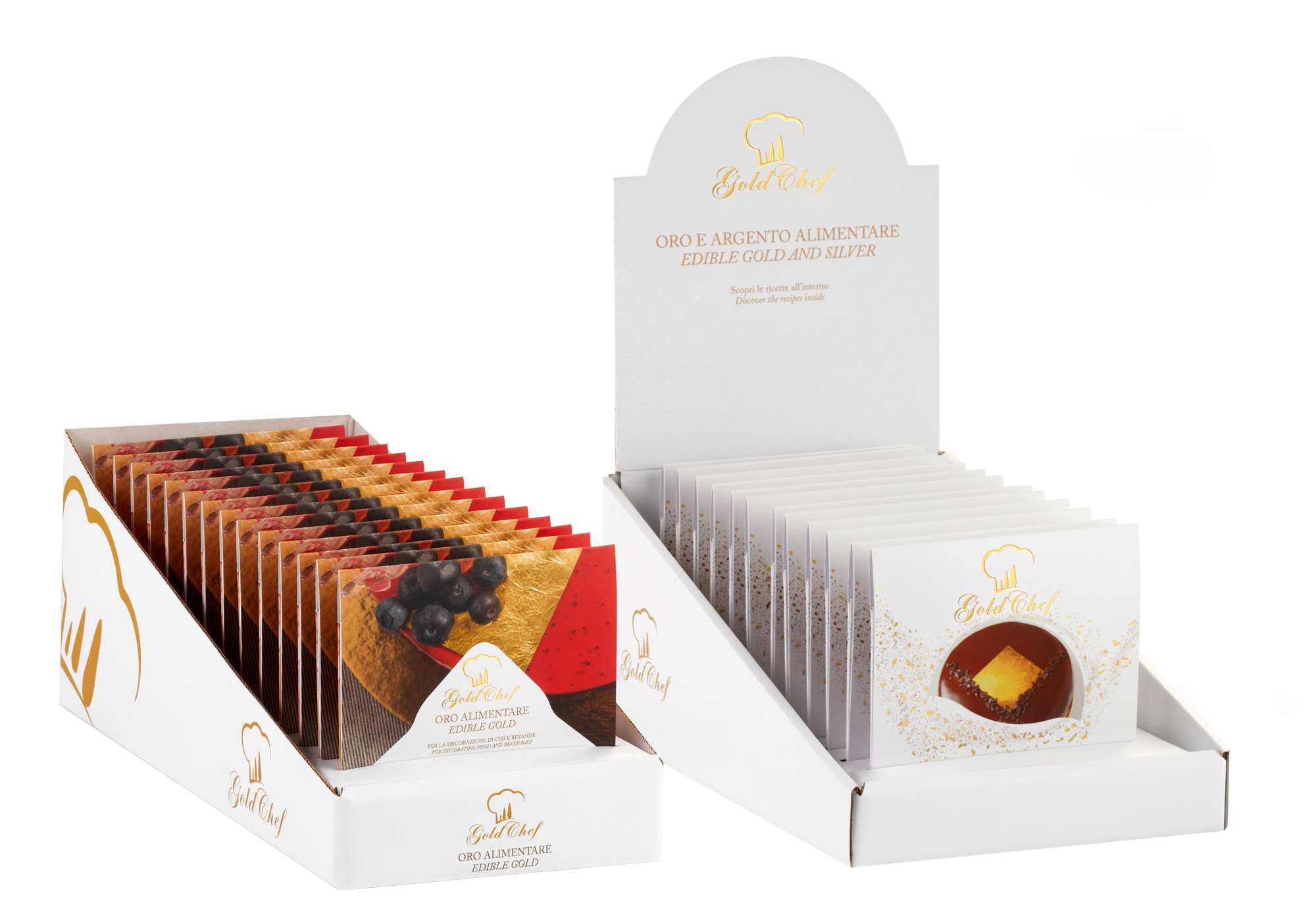 HO.RE.CA.
Used in food since ancient times, leaf is the perfect variety of edible gold for decorating large surfaces of uniform height, such as cakes and risottos. Applied whole or cut into sections, edible gold leaf is ideal for fine pastries and for complementing the creations of great chefs(*).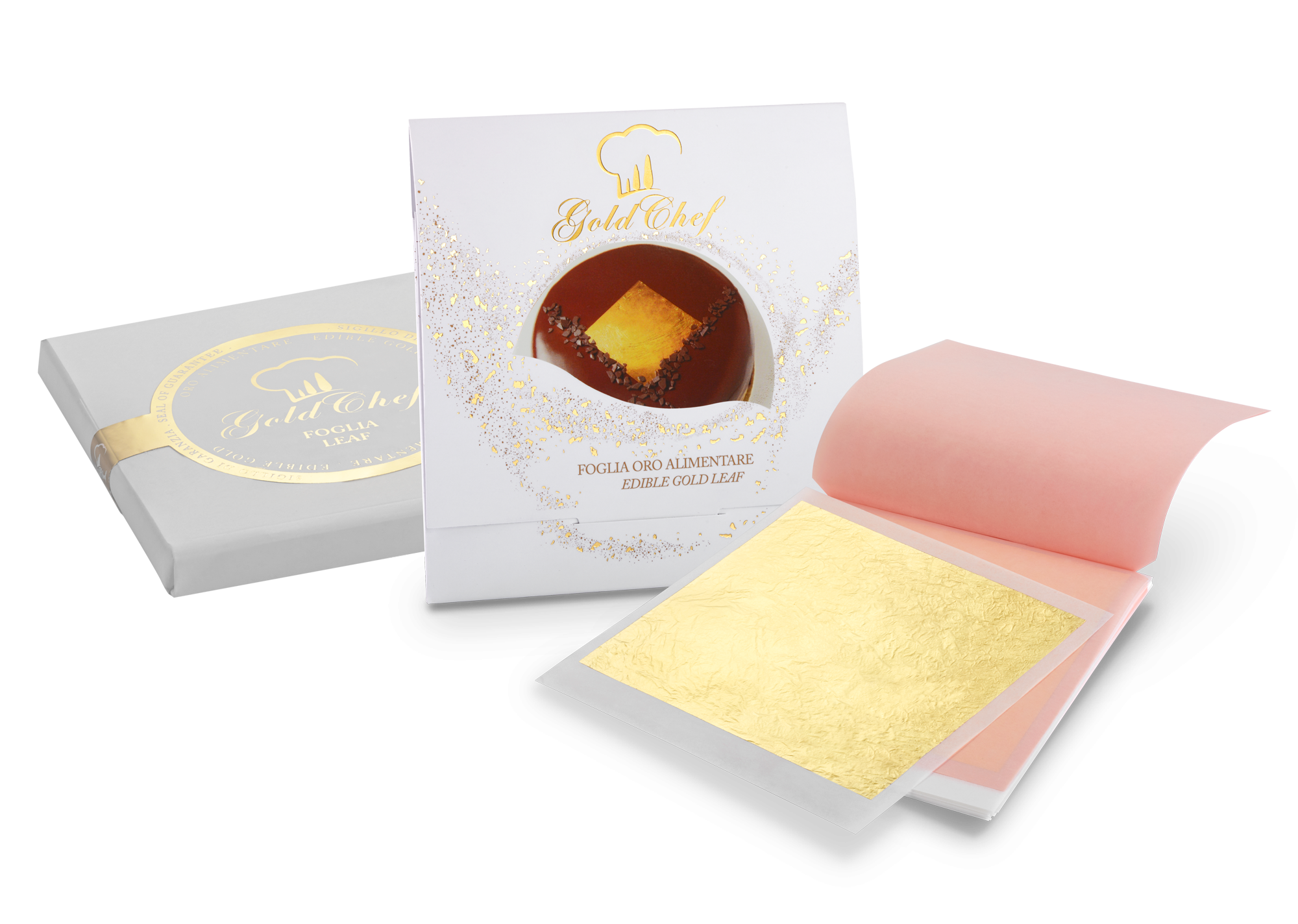 INDUSTRY
Traditionally devoted to purely artisanal use culinary gold leaf can also be used to sumptuously embellish industrial food products. Buy wholesale. Upon request, we can customize the specific weight, size, alloy and packaging of the product, in order to adapt it to your production requirements(*).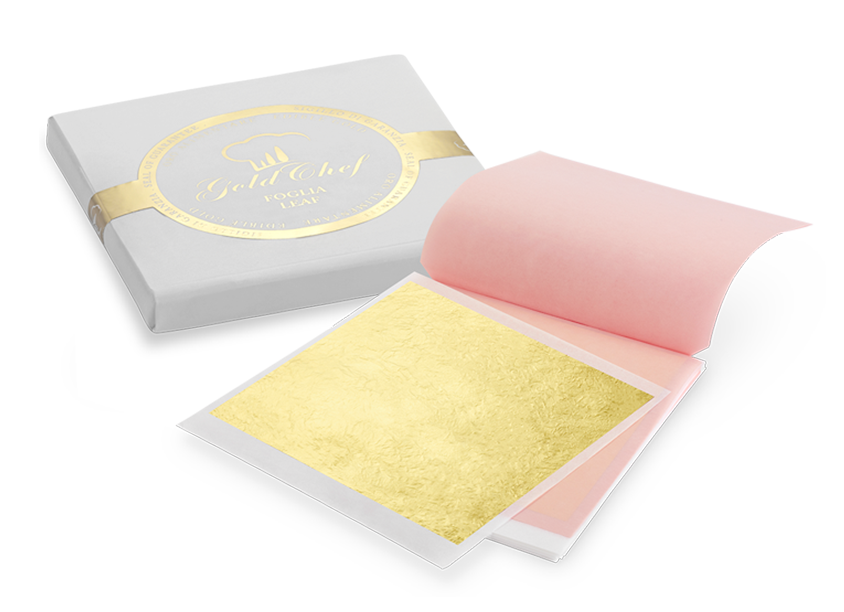 Edible 23K and 24K gold leaf for recipes(*)
Real 24k edible gold leaf and 23k edible gold leaf production are made with a production process that complies with GMP (Good Manufacturing Practice) principles and the strict hygiene and safety requirements imposed by the European Union. The quality system adopted for the production process control is certified according to the international standard FSSC 22000:2020.
Gold Chef edible gold leaves do not contain allergens, are not produced with adjuvants and/or materials of animal origin and can also be supplied with Kosher certification. The origin and processing of the precious metal are guaranteed by Giusto Manetti Battiloro, a historic company that has been working gold leaf in Florence since 1600.
For first courses, main courses, side dishes, cakes, drinks and for desserts: food grade gold leaf is ideal for any recipe(*), depending on the inspiration of the chef. A famous dish which reintroduced the use of culinary gold is the saffron risotto with edible gold leaf by master chef Gualtiero Marchesi. A dish in the Milanese tradition, reinterpreted with edible gold leaf covering the uniform surface of the rice, allowing the texture of the grains underneath to show through, creating a unique texture(*).
In addition to savory dishes, edible gold leaf can also be used to decorate desserts: star chef Vito Mollica gently places 23K and 24K Gold Chef culinary gold leaf on his raspberry macarons with white mint ice cream(*).
SELECT THE PRODUCTS OF YOUR INTEREST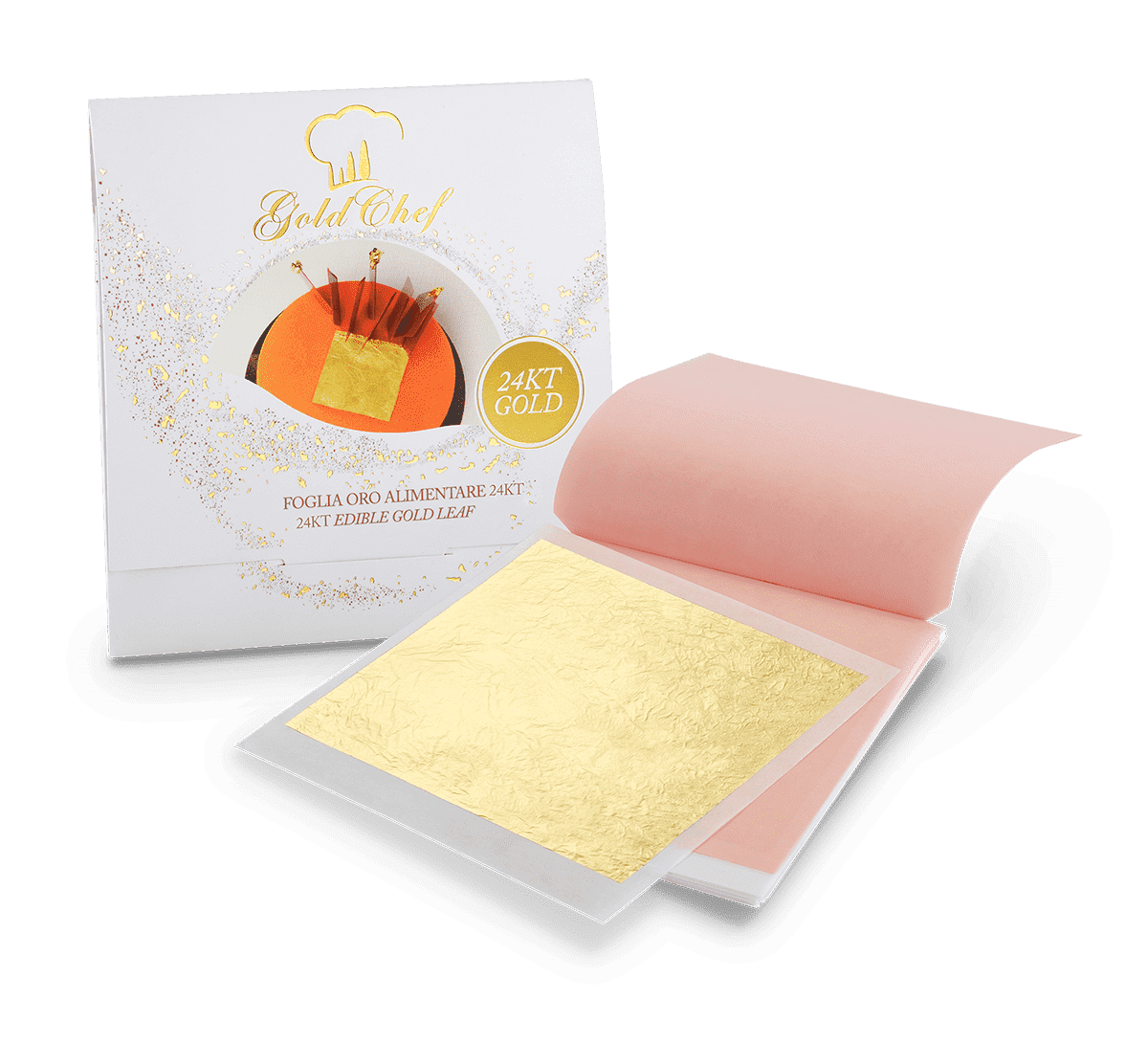 24KT edible gold leaf
measuring 80 x 80 mm, 25 leaves
single booklet
24kt gold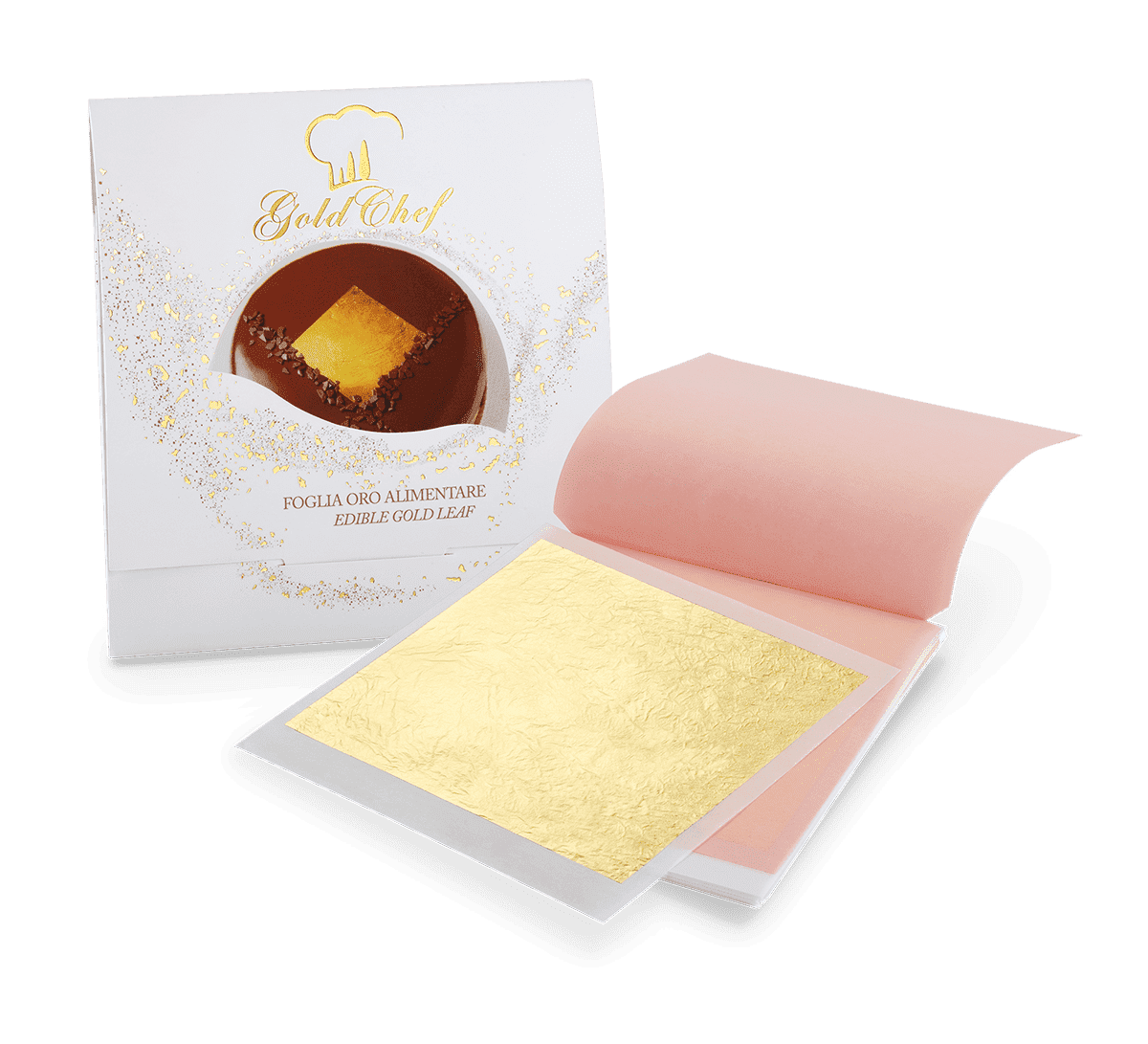 Gold leafmeasuring 80 x 80 mm, 25 leaves
single booklet 23kt gold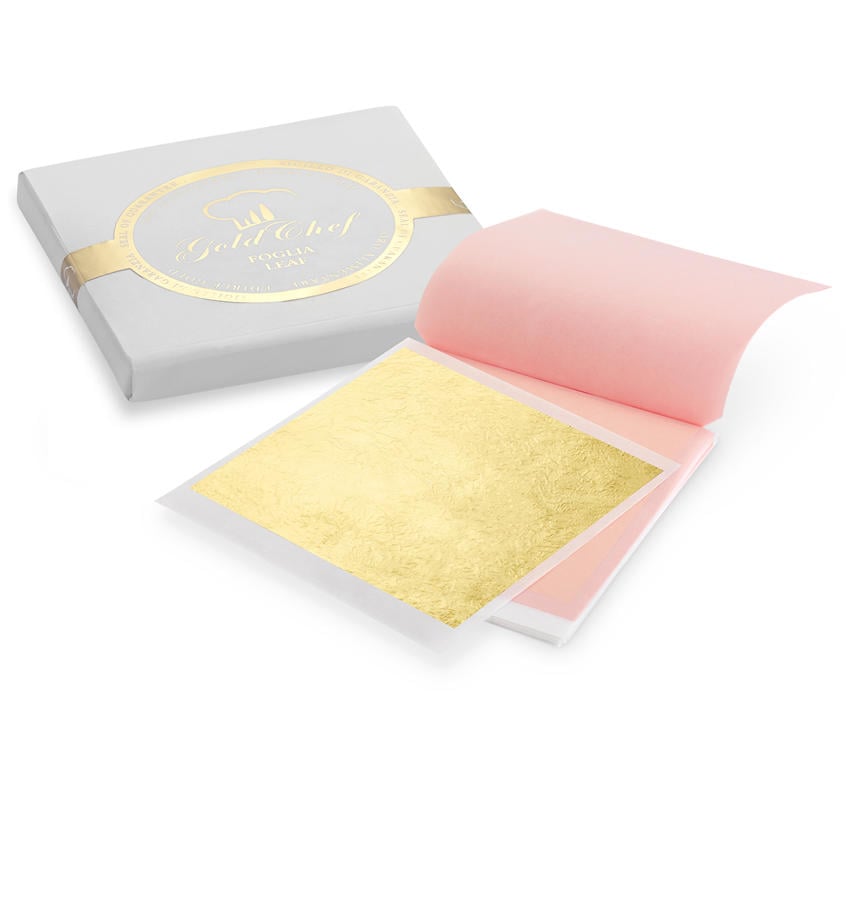 Gold leaf measuring 80 x 80 mm, 25 leaves
contains 10 twentyfive-leaf booklets - 23kt Gold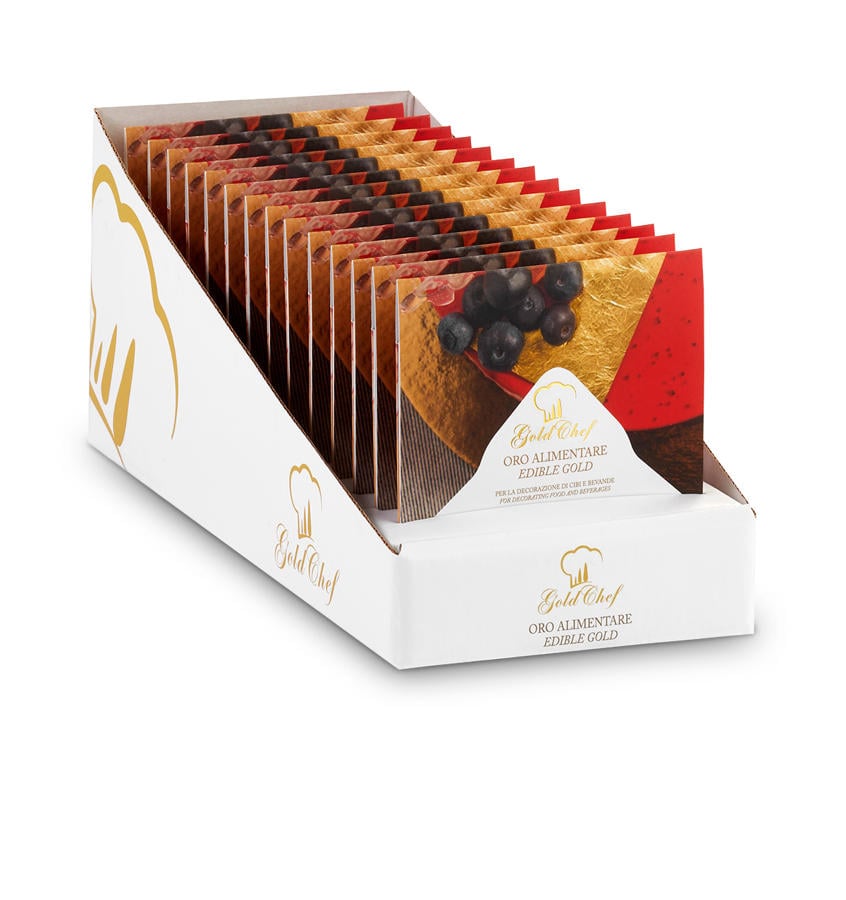 50 x 50 mm Gold Leaf Display, 5 leaves
contains 14 five-leaf booklets - 23kt Gold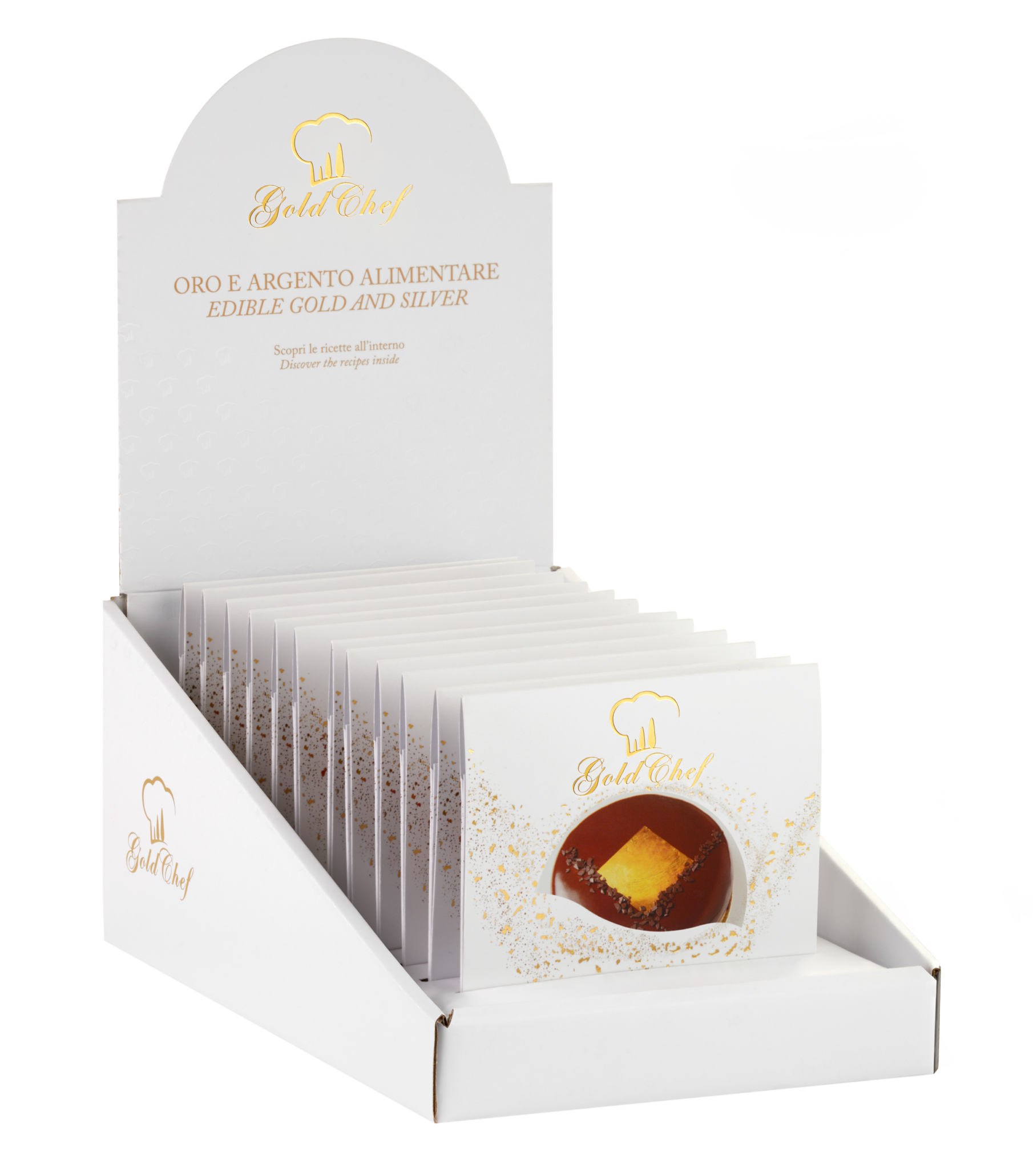 80 x 80 mm Gold Leaf Display, 5 leaves
contains 12 five-leaf booklets - 23kt Gold
GOLD ALL FORMATS
SILVER ALL FORMATS
E-SHOP
To buy edible gold and silver directly in small quantities, visit our E-shop and discover all the lines to embellish your special creations.
DISCOVER THE PRODUCTS