Gold Chef Business
Gold Chef Pills of Edible Gold
GENERAL CHARACTERISTICS
Luxurious and exclusive, 23K edible gold powder in pills is quick and easy to use and the ideal pre-measured solution for decorations. Available in 10mg size per pill.
Gold Chef culinary gold powder is biologically inert, tasteless and undetectable to the palate. It is a high-quality Italian product made exclusively from responsibly sourced 23 karat gold .
Gold Chef edible gold powder is suitable for food use in compliance with the current provisions of the countries in which it is used. It is produced in the Giusto Manetti Battiloro factory located in Florence (Italy), notified to the competent Health Authorities (registration no. CE IT AAE 090 5).
PROFESSIONAL AND INDUSTRIAL USE
RETAIL
For retail sale in the food sector, the gold powder is supplied in elegant packages.
It is possible to choose the display of 12 packs, each containing a salt shaker with 7 capsules of 10 mg gold powder (*) inside.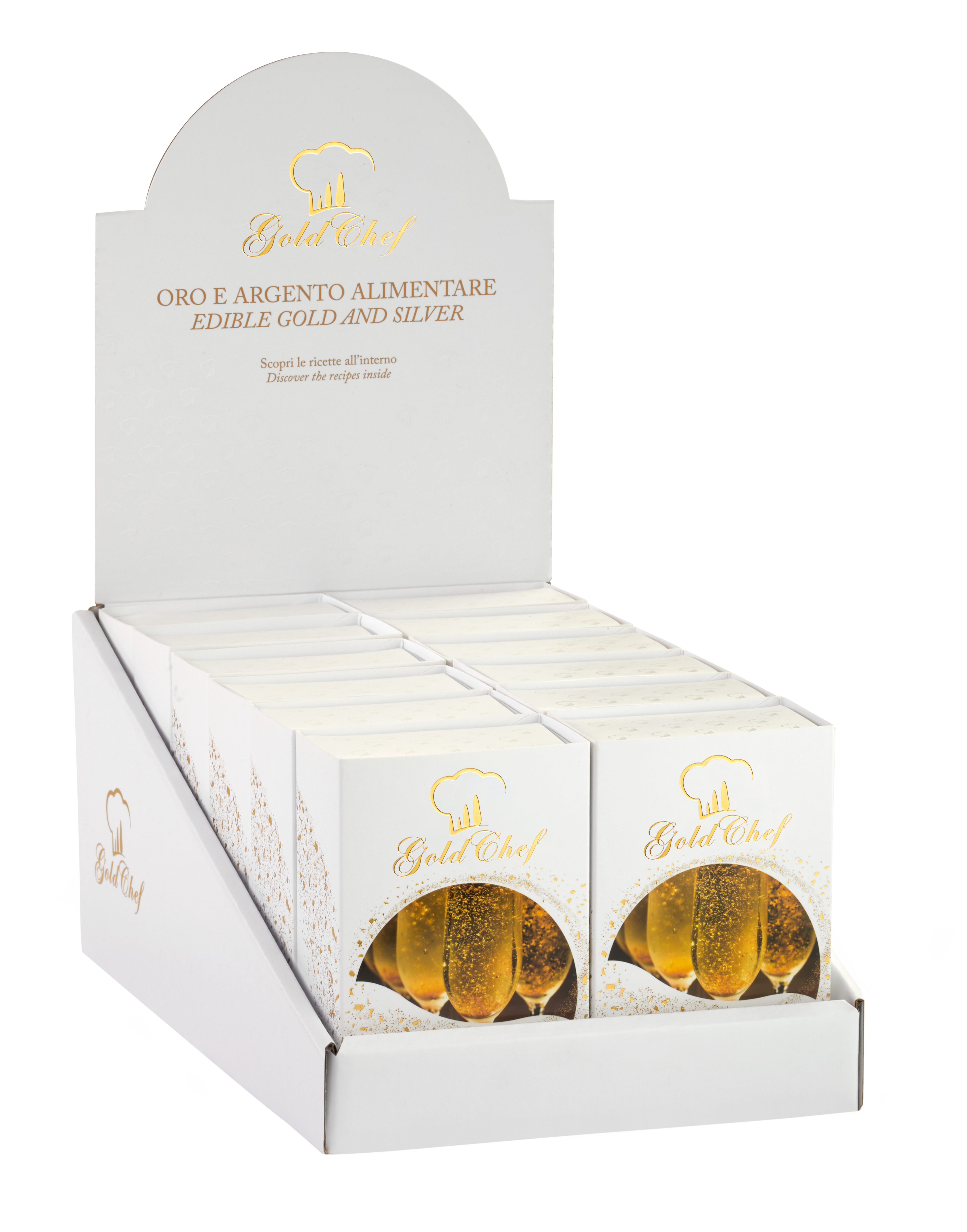 HO.RE.CA.
Using edible gold has never been easier or more precise. With Gold Chef single-serving pills, mixologists, bartenders and catering professionals have the perfect amount of gold powder at their fingertips, to embellish all their creations with the most precious splendour as well as complete control over costs and how much they are using.
Gold powder pills are particularly suitable, where permitted by current local provisions (*), for coffee drink preparations, cocktails and pastries.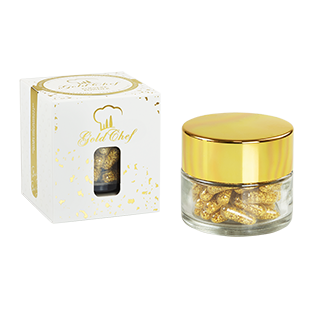 Gold Chef edible gold in pills for cocktails, desserts and coffee drinks(*)
The Gold Chef range of edible gold now has an added solution designed specifically for catering professionals, to help them achieve surprisingly spectacular results using just the right amount of pure gold for each decoration. The pills are very easy to use and you have full control over the amount of gold you use as well as the cost.
All Gold Chef production is made with a production process that complies with GMP (Good Manufacturing Practice) principles and the strict hygiene and safety requirements imposed by the European Union. The quality system adopted for the production process control is certified according to the international standard FSSC 22000:2020.
Gold Chef products do not contain allergens, are not produced with adjuvants and/or materials of animal origin and can also be supplied with Kosher certification. The origin and processing of the precious metal are guaranteed by Giusto Manetti Battiloro, a historic company that has been working gold leaf in Florence since 1600.
To use the pills, where permitted by current local provisions (*), simply open them and gently sprinkle the pure gold, letting the gold powder fall onto the solid or liquid surface that you are decorating(*). It creates instant shine, with the incomparable magical light of this most precious metal.
Gold Chef gold powder in pills is available in the 10mg size per pill.
SELECT THE PRODUCTS OF YOUR INTEREST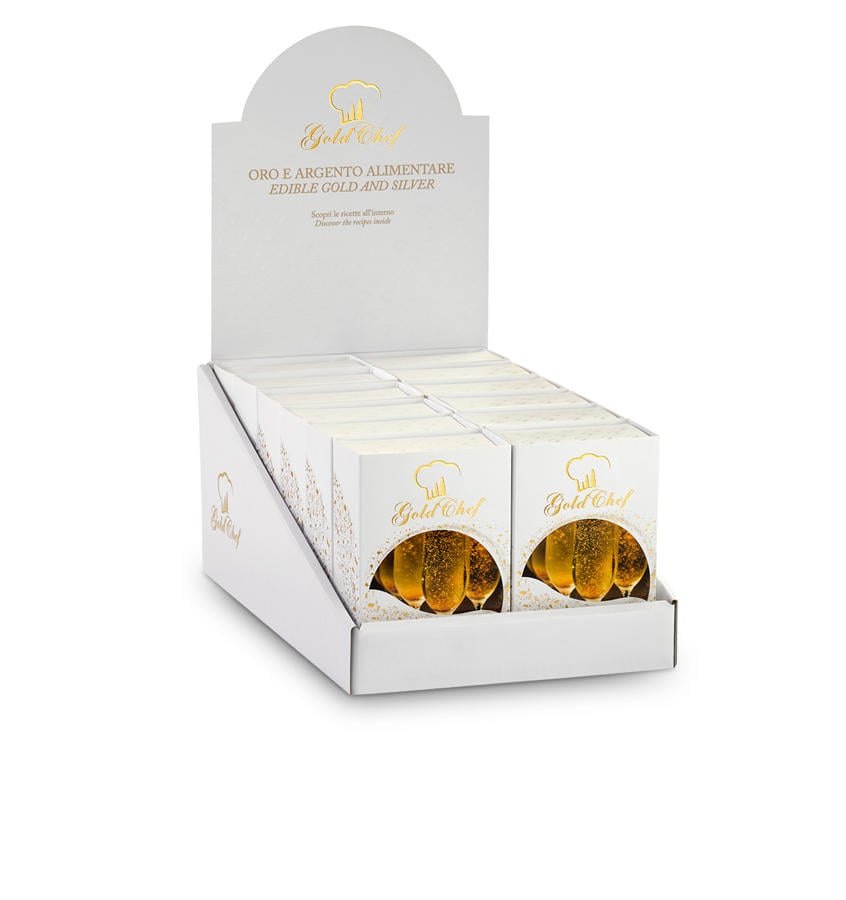 Gold pills Display
Contains 12 packages - 23kt gold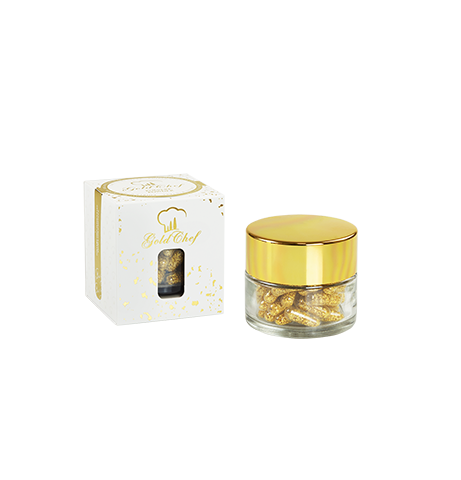 70 Gold pills
10 mg of 23 kt edible gold per pill
GOLD ALL FORMATS
SILVER ALL FORMATS
E-SHOP
To buy edible gold and silver directly in small quantities, visit our E-shop and discover all the lines to embellish your special creations.
DISCOVER THE PRODUCTS