Gold Chef Business
EDIBLE GOLD SPRAY
GENERAL SPECIFICATIONS
The preciousness of 100 mg and 200 mg of very fine 23K edible gold powder and the extreme ease of a spray: biologically inert, tasteless and undetectable to the palate, 100% Made in Italy, the new 23K edible gold spray by Gold Chef.
PROFESSIONAL USE
HO.RE.CA.
Easy and practical to use, this edible gold spray allows you to quickly decorate with a smooth coating of 23K culinary gold powder. Convenient to use on chocolate, cakes, bakery and pastry products, it is also perfect for on-the-spot decorations for dishes in the restaurant industry, as well as for all situations where you need an elegant and widespread luxurious decoration in the shortest possible time. Each dispenser can be used to decorate up to 25 to 30 single portions with 150 ml version, up to 10 to 15 with 75 ml version.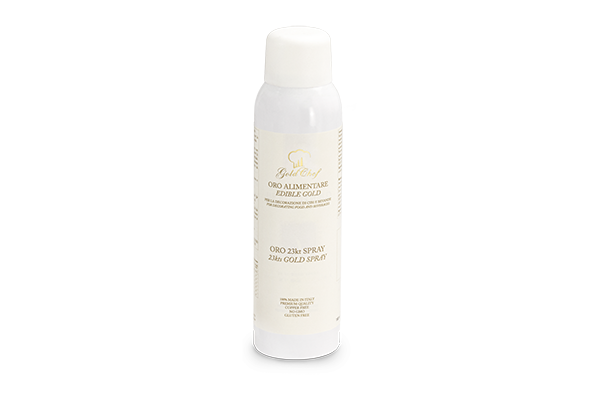 Culinary gold spray for desserts and more, the new product by Gold Chef
The Gold Chef range of culinary gold has been enriched by an extraordinary innovation: this 23K culinary gold spray is an absolute innovation on the market and was created after more than two years of research. With ONLY culinary gold, without additives or colorants, Gold Chef edible gold spray is precious, easy to use, safe and guaranteed. It has been designed for creating impressive decorative effects, to quickly and practically add value to your work.
Gold Chef culinary gold is of responsible and certified origin, guaranteed by Giusto Manetti Battiloro, a company based in Florence, Italy, with a centuries-old history of working with precious metals. Edible gold is gluten-free, certified for use in Kosher cuisine and is free of substances of animal origin.
Decorating and embellishing every dish only with real edible gold has never been so easy. To use this product, just shake the container well and remove the cap. Then spray by exerting light pressure to shine touch of luxury on your culinary creations.
Master pastry chef Domenico Di Clemente, of the historic Martesana pastry shop in Milan, has chosen Gold Chef 23K culinary gold spray to illuminate his recipes. Ideal for elegantly "dressing up" the homogeneous surfaces of cakes, culinary gold is a decoration that makes the Martesana pastry shop's creations distinctive.
SELECT THE PRODUCTS OF YOUR INTEREST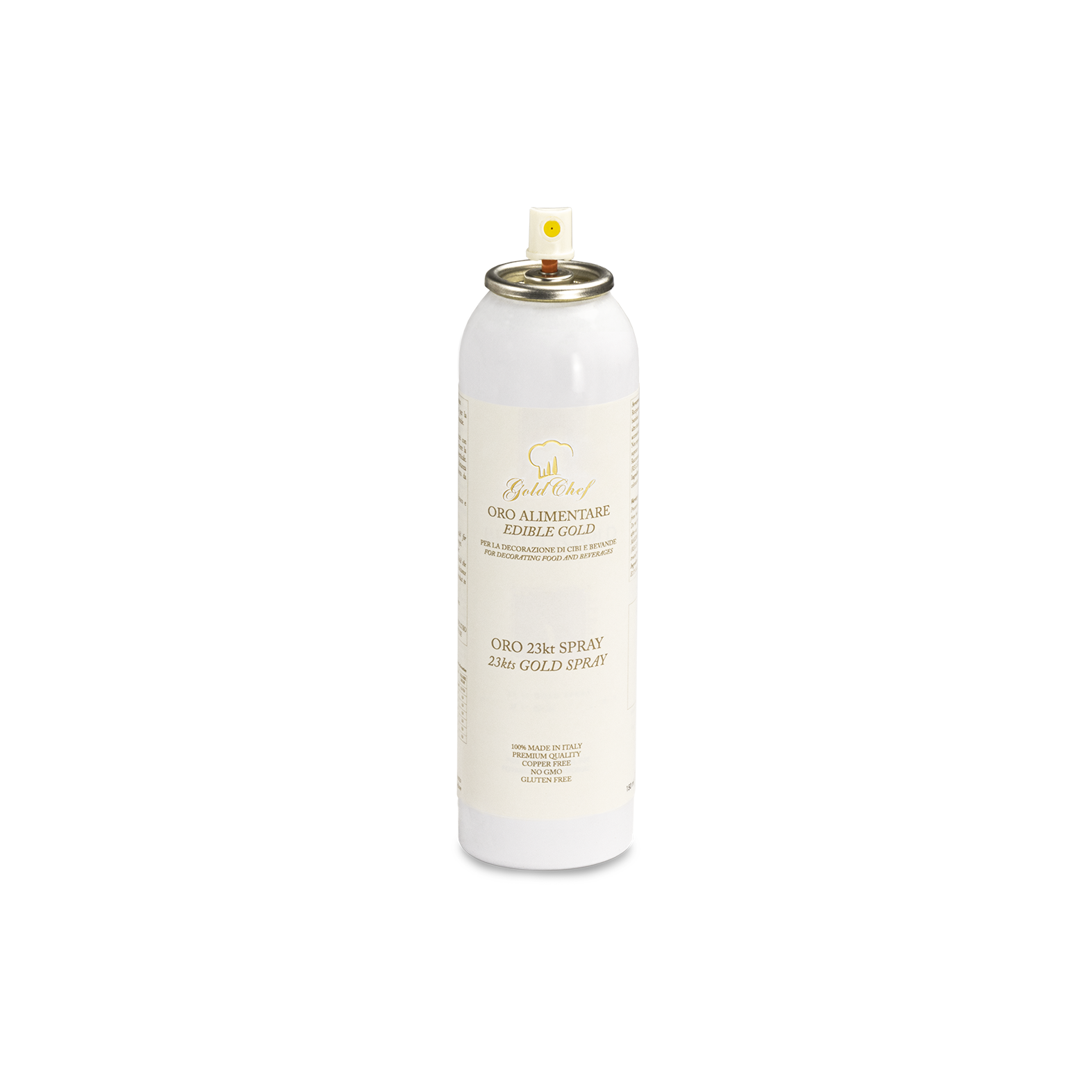 23kt Gold Spray
200 mg of 23KT GOLD
150 ml version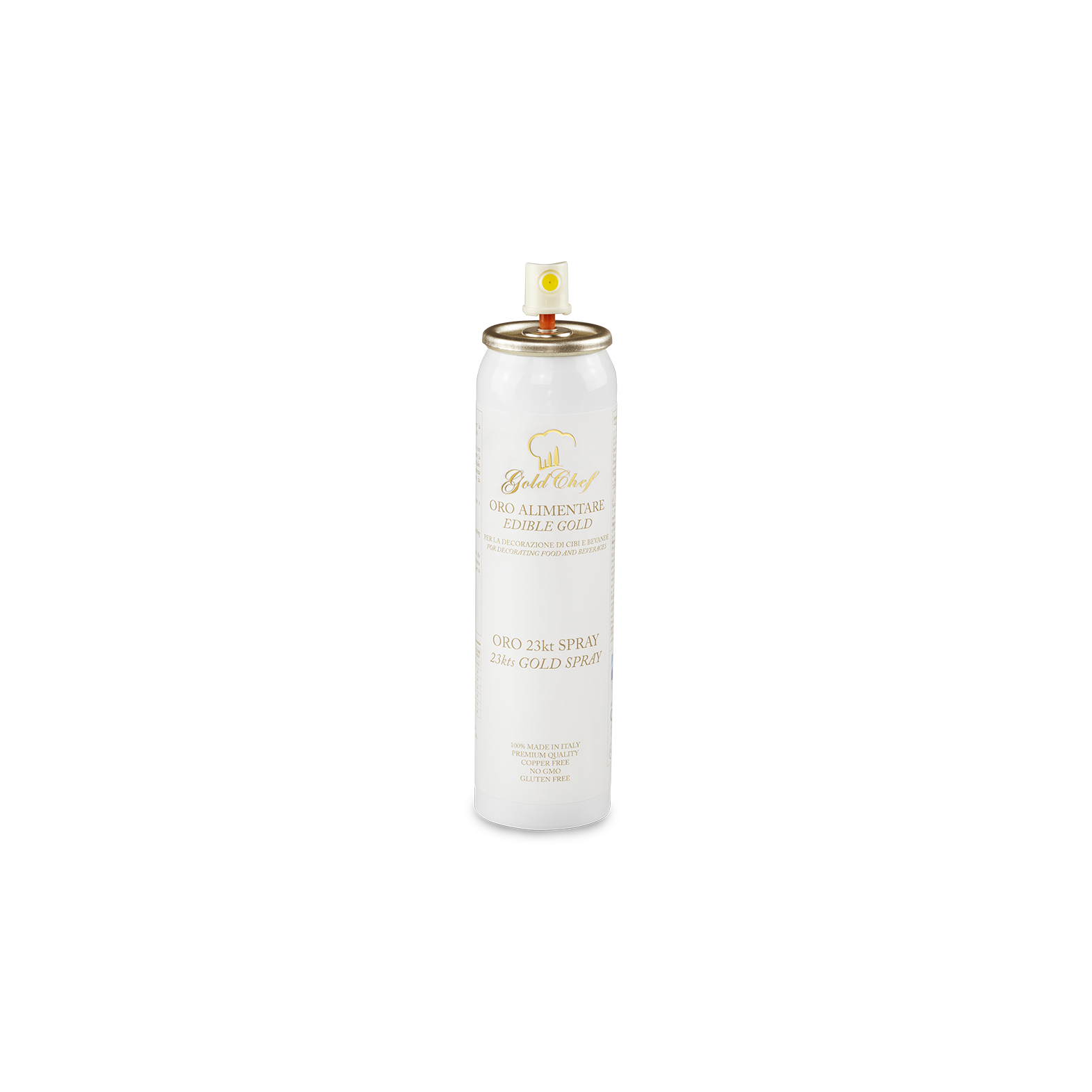 23kt Gold Spray
100 mg of 23KT GOLD
75 ml version
GOLD ALL FORMATS
SILVER ALL FORMATS
E-SHOP
To buy edible gold and silver directly in small quantities, visit our E-shop and discover all the lines to embellish your special creations.
DISCOVER THE PRODUCTS