Gold Chef Business
EDIBLE SILVER FLAKES
GENERAL SPECIFICATIONS
Gold Chef edible silver flakes are biologically inert, tasteless and imperceptible to the palate.
Edible silver in flakes is a high quality Italian product made exclusively with pure silver and is suitable for food use in compliance with the current provisions of the countries in which it is used. It is produced in the Giusto Manetti Battiloro factory located in Florence (Italy), notified to the competent Health Authorities (registration no. CE IT AAE 090 5).
It is advisable to shake the package well before using the product.
PROFESSIONAL AND INDUSTRIAL USE
RETAIL
In the Retail sector, edible silver "scales" can be supplied in two types of packaging in soft and elegant colors: displays with 14 70 mg parchment envelopes or 12 125 mg glass jars(*).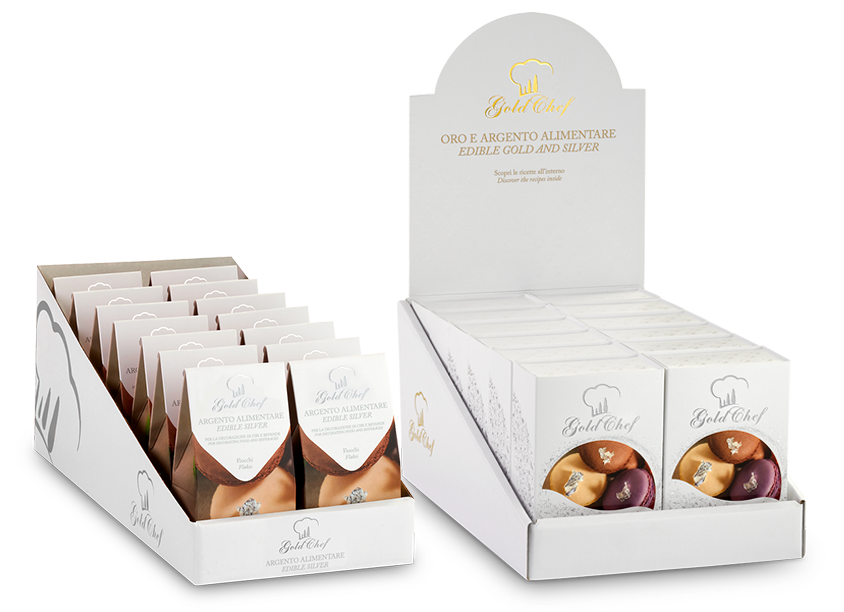 HO.RE.CA.
From hors d'oeuvres to desserts and cakes, to cocktails and after-dinner liqueurs, edible silver flakes delicately match any culinary creation, giving the chef maximum creative freedom. The purpose of edible silver flakes is purely aesthetic, to amaze and delight the eyes of dinner guests(*).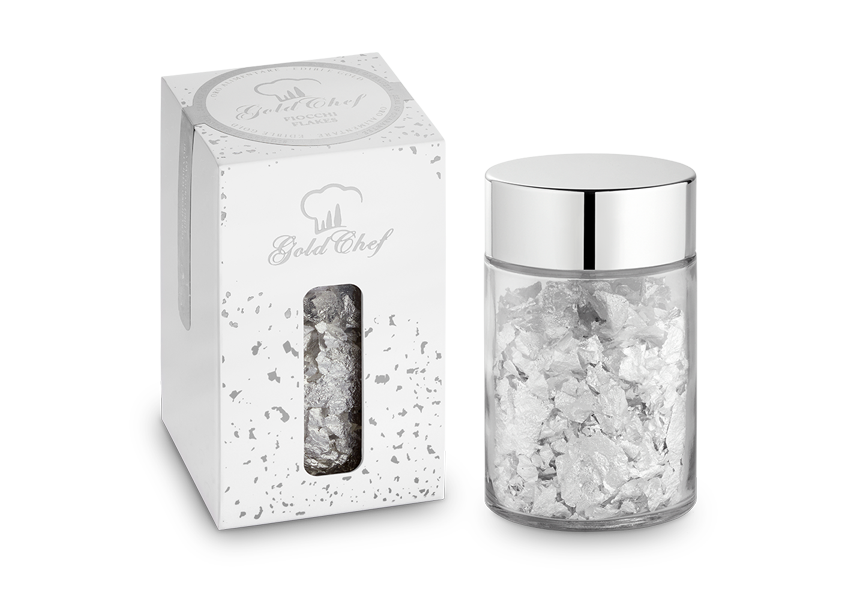 INDUSTRY
In the food industry, edible silver flakes can also be used in industrial production, in particular for confectionery and spirits. In this case, the flakes are supplied in containers in ad hoc dimensions for the required quantity and, on request, we can customize specific weight, size and composition(*).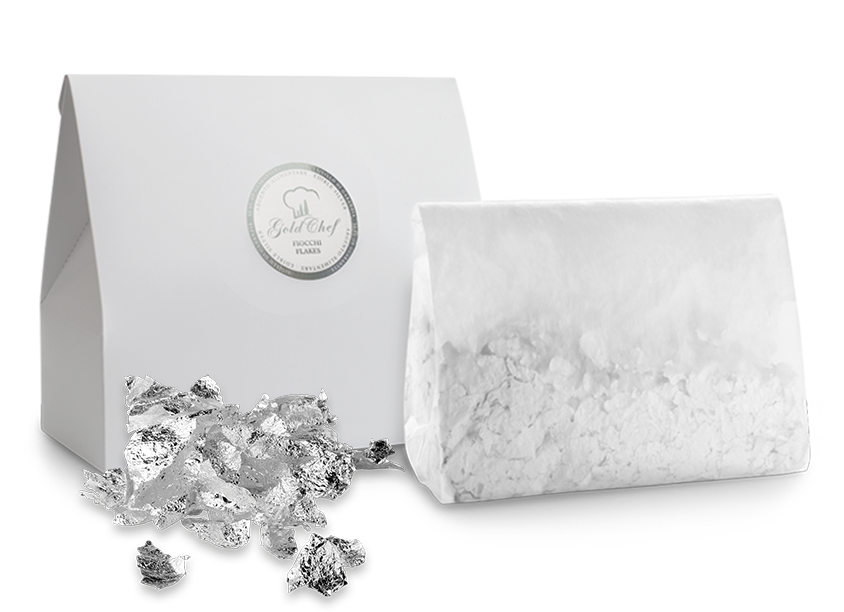 Edible silver flakes certified for use in food
All Gold Chef production is made with a production process that complies with GMP (Good Manufacturing Practice) principles and the strict hygiene and safety requirements imposed by the European Union. The quality system adopted for the production process control is certified according to the international standard FSSC 22000:2020.
Gold Chef products do not contain allergens, are not produced with adjuvants and/or materials of animal origin and can also be supplied with Kosher certification. The origin and processing of the precious metal are guaranteed by Giusto Manetti Battiloro, a historic company that has been working gold leaf in Florence since 1600.
Edible silver flakes enhances dishes and beverages of all kinds: from haute cuisine recipes to home recipes for special occasions, silver is the perfect ingredient to make your table shine(*).
In the "Recipes" section, you can discover some very attractive and easy-to-prepare dishes, such as zucchini aspic with squid ink cream, decorated with Gold Chef pure edible silver flakes(*).
SELECT THE PRODUCTS OF YOUR INTEREST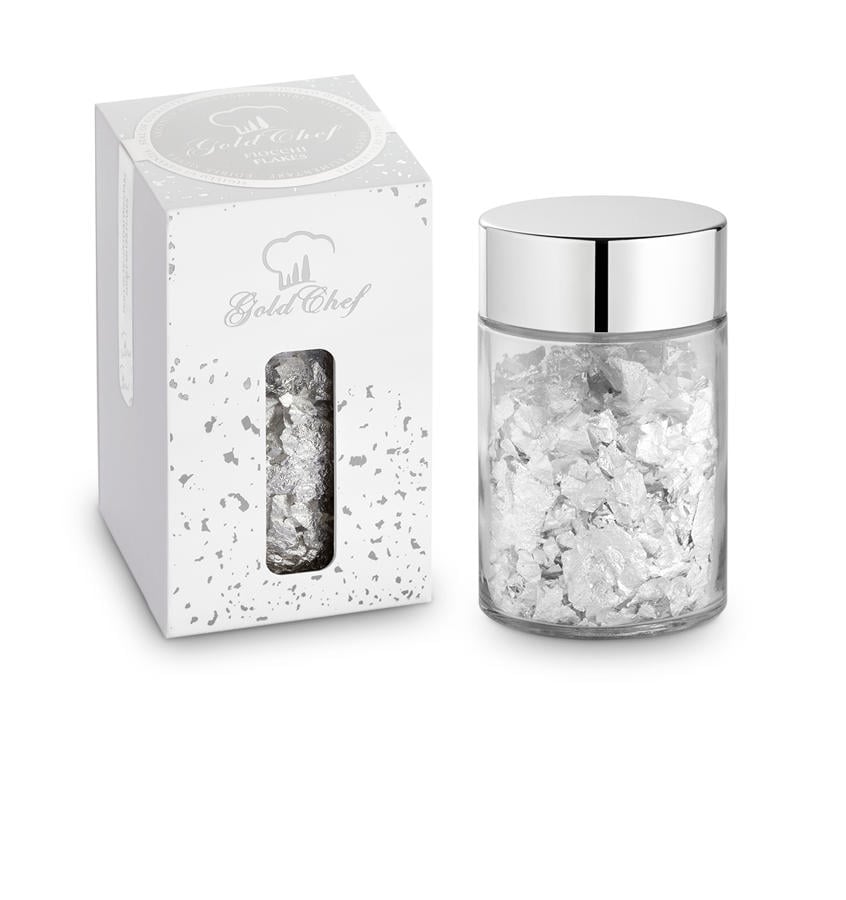 1 gr Silver Flakes
Pure silver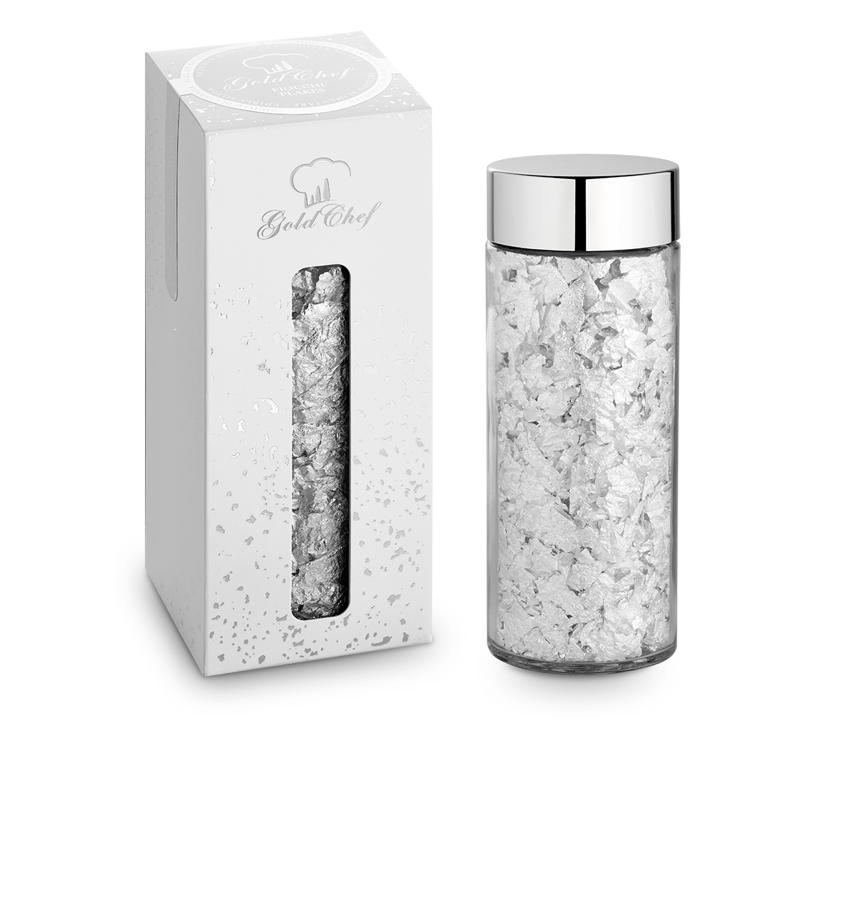 3 gr Silver Flakes
Pure silver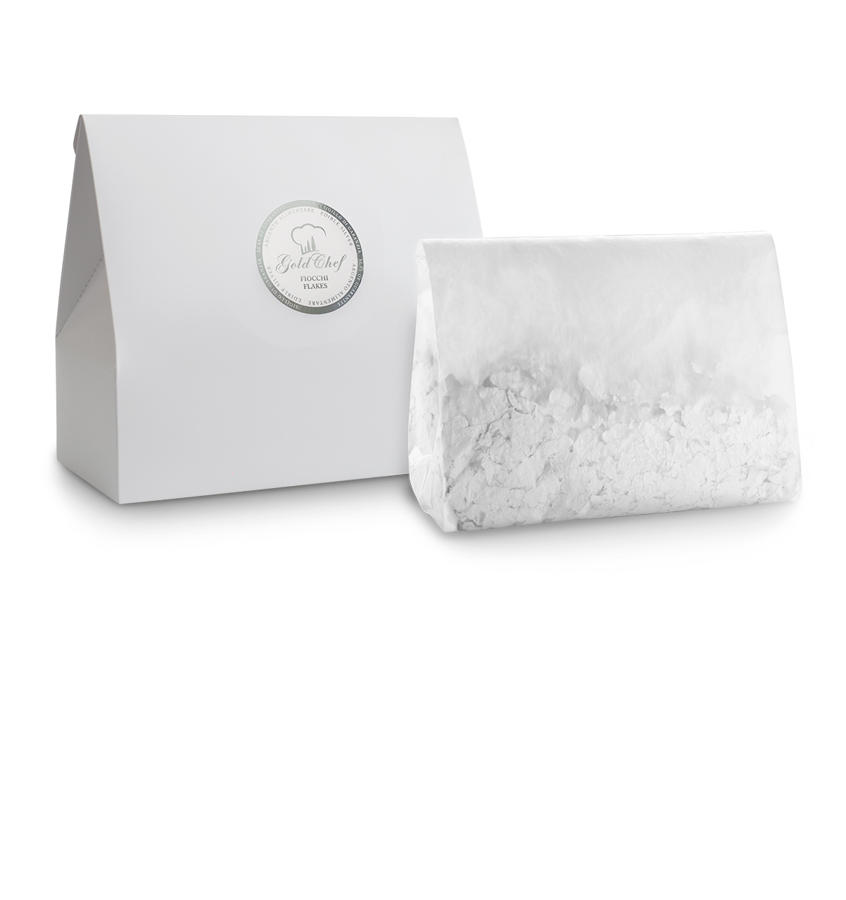 10 gr Silver Flakes
Pure silver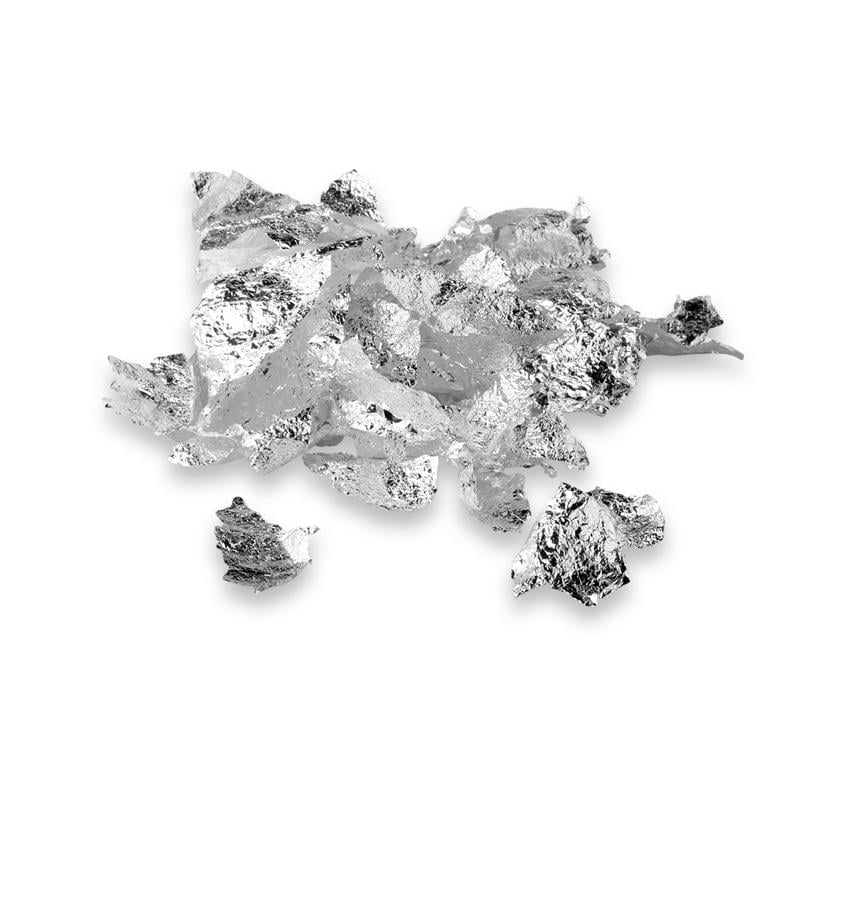 50 gr Silver Flakes
Pure silver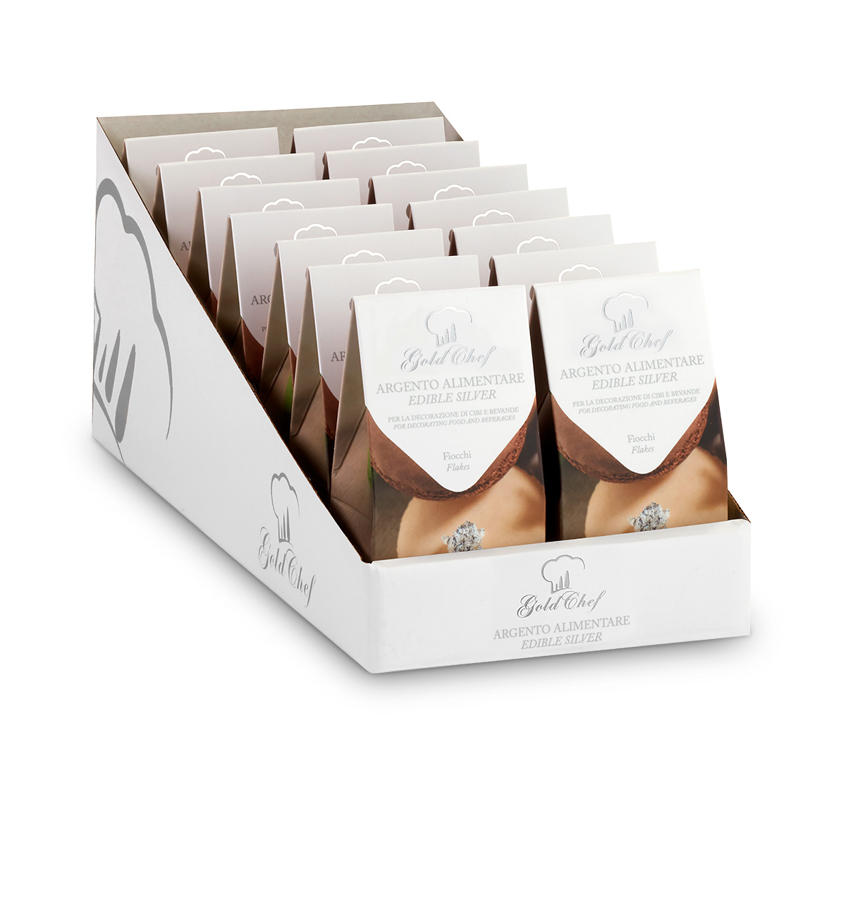 70 mg Silver Flakes Display
Contains 14 packages of 70 mg - Pure Silver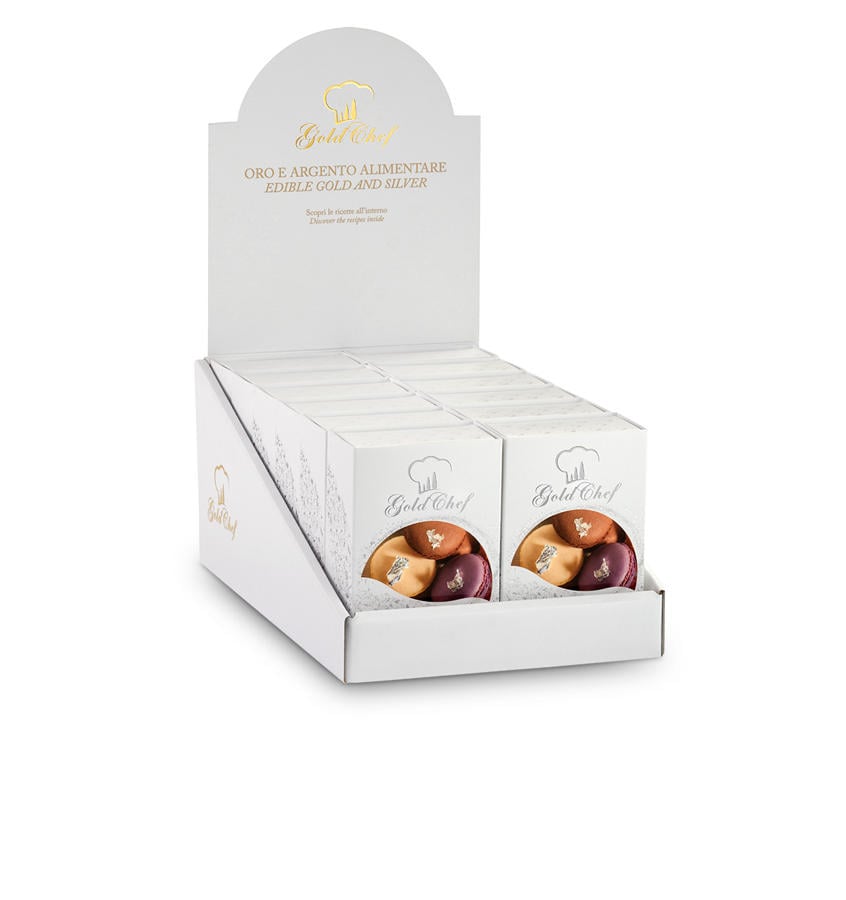 125 mg Silver Flakes Display
Contains 12 packages of 125 mg - Pure Silver
GOLD ALL FORMATS
SILVER ALL FORMATS
E-SHOP
To buy edible gold and silver directly in small quantities, visit our E-shop and discover all the lines to embellish your special creations.
DISCOVER THE PRODUCTS