Add surprising and small specks of light to your dishes with gold crumbs. They are particularly wonderful on first courses, fish main courses, side dishes and pastries. Very easy to use, gold crumbs are precious details that make each creation unique.
Packaging: Plastic free parchment sachet
Available Formats: 70mg
Conservations Suggestions: Seal and store in a cool and dry place
Product Duration: 10 years after opening
Guarantee: 10 years
Packaging Description

The parchment sachets are made exclusively with natural raw materials. Small and handy, they facilitate precision and accuracy.
23 kt gold authorised for food use, periodically checked and annually certified by TUV Rheinland
Manufactured according to GMP (General Manufacturing Purpose) food manufacturing standards
E175 Food Colouring
Produced without copper, biologically inert, tasteless, imperceptible to the palate
Produced without raw materials of animal origin
Gluten free
Each Gold Chef YOU&ME package contains enough gold crumbs to decorate 3 to 5 portions.
THE SPLENDOUR OF DETAILS
Gold Crumbs: charming light
To turn a good recipe into an enchantment for the eyes, simply cut a corner of the parchment sachet and then lightly tap your finger on the paper. The golden crumbs will fall gently, gifting your dish with wonderful drops of light. We recommend using them during preparation of the dish.
Knowing how to impress
Much loved by chefs who use them to enhance the composition and hues of their gourmet creations, gold crumbs are perfect for concentrated or diffused points of light. Flexible and serpentine, they are impeccable details on unique and unforgettable appetizers, first and second courses, desserts, cakes and small pastries.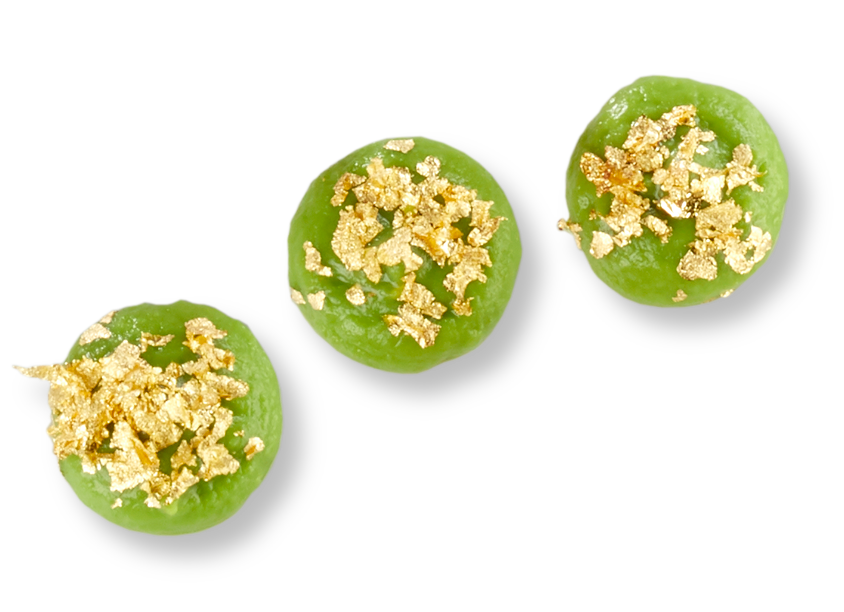 DISCOVER THE PRODUCTS OF THE OTHER LINES
YOU MAY ALSO BE INTERESTED